Classical Armenian (Grabar) Online School
9 weeks, from Jun 01, 2021 to Jul 30, 2021
Online from Yerevan, Armenia
Applications for this course are closed, check out upcoming courses.
For inquiries please contact [email protected]
Armenian School of Languages and Cultures - ASPIRANTUM is organizing Intermediate Classical Armenian (Grabar) online school. The 9 weeks Grabar online school will start on June 1, 2021, and will last till July 30, 2021. 2021 Old Armenian language online school will help the participants to become skillful in reading and interpreting Grabar texts.
After completing the first Classical Armenian online course, ASPIRANTUM language school is now inviting you to apply to the second 9 weeks online Grabar program.
The first Grabar course, organized from February 9 till April 9, 2021, was primarily for students with elementary and upper elementary levels of Classical Armenian. The second classical Armenian online course will be organized from June 1 till July 30 for students that already have an intermediate level of Classical Armenian and are ready to start reading Classical Armenian texts immediately. The first upper elementary Classical Armenian online course had 6 students. After completing the upper elementary level of Grabar, 4 of the 6 students will continue with ASPIRANTUM and participate in the Intermediate Grabar course starting June 1, 2021. You may find the testimonials of our previous students here: https://aspirantum.com/testimonials
The students will receive a detailed syllabus of each day's class. Currently, only 3 weeks of the intermediate Grabar course are available online on our website https://aspirantum.com/curriculum/classical-armenian-grabar-syllabus (the first 3 parts in this syllabus is the program of the upper elementary level. The June 1 course will start from part 4). During the coming weeks, the syllabus of all 9 weeks will be available on the website.
This 9 weeks, Classical Armenian online school will be organized on Tuesdays and Fridays each week (18 days) and will include 54 hours of intensive Armenian language teaching (3 hours each day).
We are planning to start the online classes at 7 PM Yerevan time. This time is mainly comfortable for the students from European and American countries. Depending on the geography of applicants, the time may be changed, and all applicants will be informed about the time changes before the course.
The 3 hours class of each day will be divided into the following sections:
First class - Homework and discussion
Break
Second class - Grabar Readings
Break
Third class - Grabar Readings and discussion
During the Grabar language summer classes, the following components will be covered every day:
Grammar: Everyday class will cover the main grammatical concepts of the Classical Armenian language.
Vocabulary: During the 9 weeks (54 hours) course, it is anticipated that the participants will learn more than 750 new Classical Armenian words.
Listening: The participants will learn Grabar also through listening Grabar through liturgies and poetry. The instructor of Grabar will also speak a lot in Grabar during class, so the participants have more interaction with classical Armenian.
Speaking: Participants will be forced to speak Old Armenian and tortured if not, just like in ancient schools. This language teaching methodology has been productive at all times :) (this is a joke, no one will be tortured, it will even be impossible because the class is online).
Writing: Each day, the participants will have writing assignments and homework to complete for the next day.
Reading: Every day, students will read and discuss scriptural, historical, and liturgical texts and poetry from manuscripts. If requested, the participants will gain the basic skills to read and interpret medieval Armenian epigraphy.
- Scriptural readings will include the Gospel of Sant John, the Book of Genesis, and (ad libitum) any other text from the Classical Armenian Bible.
- Historical corpus will include excerpts from Agathangelos (V c.), Pavstos Buzand (V c.), Yeghishe (V c.), Movses Korenatsi (V c.), Arakel Davrizhetsi (XVII c.), and Mikael Chamchyants (XVII c.).
- Readings from philosophical texts will be taken from Yeznik Kolbtsi (V c.) and (ad libitum) Davit Anhalt (VI c.).
- From liturgical corpus excerpts from Armenian Missal (p\Pataragamatuyts), Breviary (Zhamagirk), and Book of hymns (Sharaknots). Authors: Mesrop Mashtots (V c.), Hovhannes Mandakuni (V c.), Grigor Narekatsi (X c.), Nerses Shnorali (XII s.), Nerses Lambronatsi (XII c.) will be used as reading materials.
Levels:
This Classical Armenian online language school is designed for participants at least 18 years old. The Grabar online course will have 1 group of up to 12 participants.
The participants must already have an intermediate or above level of Classical Armenian, Eastern Armenian, or Western Armenian knowledge before starting the classes with ASPIRANTUM.
ASPIRANTUM's Classical Armenian language schools are organized so that undergraduate and graduate students, researchers, and professors, and anyone interested in learning Classical Armenian will benefit from it. Thus, everyone with an upper elementary level of Armenian is welcome to apply and participate in ASPIRANTUM's Intermediate Classical Armenian course from June 1, 2021, till July 30, 2021, online.
Instructor: Dr. Ani Shahnazaryan will teach the "Classical Armenian" online course.
Regular Deadline:
The deadline to apply to the Intermediate Classical Armenian online course is May 12, 2021.
To apply, please fill in the application form below.
Deadline for discounted fee:
April 26, 2021 (see discount details in the "Participation fee" section below).
Participation fee:
The participation fee for the 9 weeks Classical Armenian online course is $1200.
Discount 1
If you apply before April 26, 2021, and make the payment by April 30, 2021, the participation fee will be 990 USD.
Discount 2
Need-based discounts will also be available. Please send an email to [email protected] describing your situation, and we will consider your case individually.
Each participant of the online school may find sources of financial aid from their own University/School/Community or other relevant foundations.
Letter of Invitation
If necessary, ASPIRANTUM will provide applicants with an official letter to support scholarship applications.
Maximum capacity in the group: 12 students
Communication medium: The online course will be organized through Zoom.
To apply, please fill in the application form below.
Registered participants should send 100% of the participation fee before May 15, 2021, online via debit/credit card (Visa or Mastercard).
For questions and inquiries, please contact [email protected] or Whatsapp Dr. Khachik Gevorgyan +374-91-557978
To apply, please fill in the application form below.
"Our professor patiently guided us for six hours every week, building our advancement step by step and providing us all the tools to go through ancient Armenian texts. I really recommend this course."

Beatrice Spampinato

PhD Fellow, Ca' Foscari University of Venice, Italy

"The multilingual and multicultural environment of the class, combined with the kindness of the teacher, made the course an enjoyable opportunity to meet colleagues from all over the world and to share knowledge with them about Grabar and Armenian culture and literature."

Castrenze Nigrelli

Research Fellow, Department of Humanities, University of Palermo, Italy

"This class was a blast and so beneficial! Our Instructor, Dr. Ani Shahnazaryan, not only is extremely knowledgeable of Classical and Middle Armenian, but her teaching methodology is superb."

Michail Kitsos

Post Doctoral Researcher, University of Toronto

"I have learned a lot in a short amount of time and I absolutely recommend this course to anyone, who is like me, eager to read sources from classical Armenian in Grabar!"

Neda Darabian

PhD Candidate, Centre for Religious Studies, Bochum, Germany

"Our wonderful teacher Ani arranged the lessons in such a way that we would learn effectively, practice the grammar rules and vocabulary often, and work on translations that were appropriate for each lesson."

Pelin Kalafatoğlu İslamoğlu

PhD Student in Art History, Koç University

"The lessons were each a well-measured package. I had to put a real effort into it but I was not overloaded, even with a full-time job. Now I feel well equipped to dive into Classical Armenian literature."

Per Pedersen

Pastor in The Church of Denmark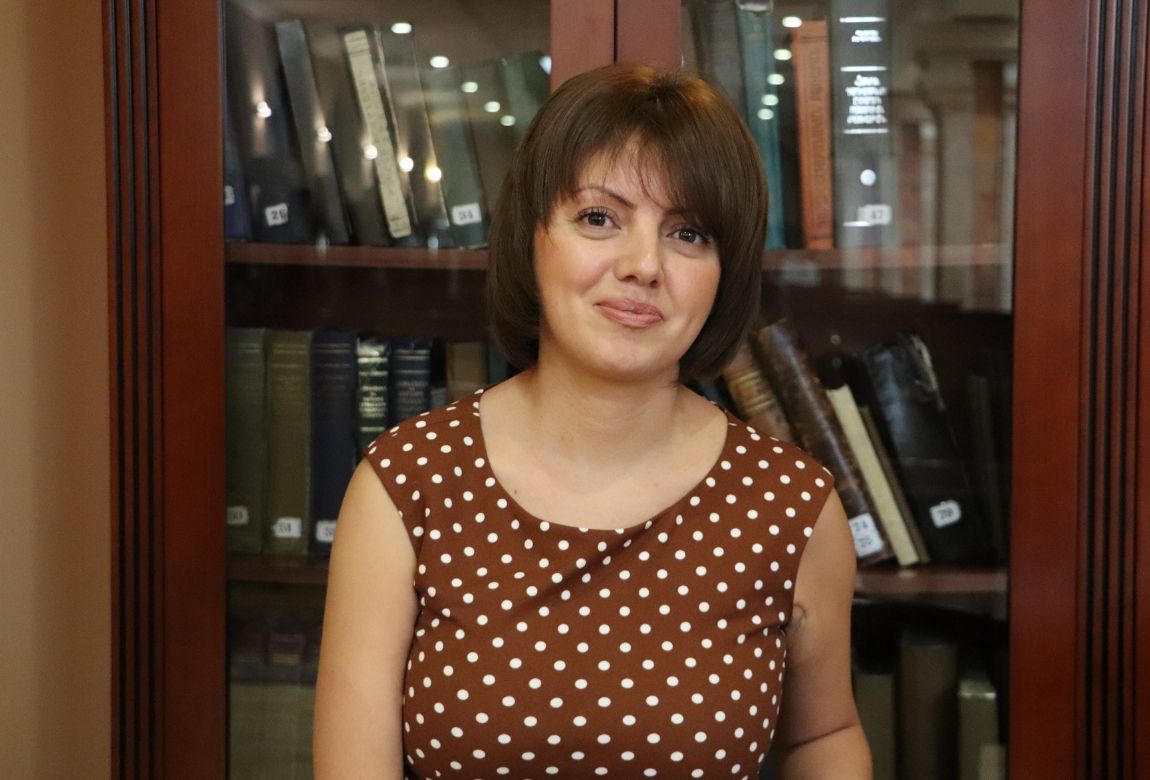 Ani Shahnazaryan teaches Armenian using her academic background in old, medieval and modern Armenian language and literature.
Classical Armenian (Grabar) Syllabus
This is an intensive Classical Armenian (Grabar) course that aims at giving students experience in reading and interpreting a wide range of Classical Armenian texts. After an initial introduction to the grammar and syntax of Grabar, students will read a variety of texts including biblical texts; liturgical texts (Pataragamatuyts, Zhamagirk, Sharaknots); hagiographic texts; historical literature of the 5th-9th centuries; historical literature of the 10th-14th centuries; religious and secular verse.
Learn More