Classical Armenian (Grabar) Online School
9 weeks, from Feb 09, 2021 to Apr 09, 2021
Online from Yerevan, Armenia
Apply by Jan 31, 2021
Price: $1,200
Armenian School of Languages and Cultures - ASPIRANTUM is organizing Classical Armenian (Grabar) online school. The 9 weeks Grabar online school will start on February 9, 2021 and will last till April 9, 2021. 2021 Old Armenian language online school will help the participants to become skillful in reading and interpreting Grabar texts.
This 9 weeks Classical Armenian online school will be organized on Tuesdays and Fridays each week (18 days) and will include 54 hours of intensive Armenian language teaching (3 hours during each day).
The students will receive a detailed syllabus of each day's class. Currently, only 3 weeks of the syllabus are available online on our website https://aspirantum.com/curriculum/classical-armenian-grabar-syllabus. During the coming weeks, the syllabus of all 9 weeks will be available on the website.
We are planning to start the online classes at 9 PM Yerevan time. This time is mainly comfortable for the students from European and American countries. So depending on the geography of applicants, the time may be changed and all applicants will be informed about the time changes prior to the course.
The 3 hours class of each day will be divided into the following sections:
First class - Homework and discussion
Break
Second class - Grabar Grammar
Break
Third class - Grabar Readings
During the Grabar language summer classes the following components will be covered every day:
Grammar: Everyday class will cover the main grammatical concepts of the Classical Armenian language.
Vocabulary: During the 9 weeks (54 hours) course it is anticipated that the participants will learn more than 750 new Classical Armenian words.
Listening: The participants will learn Grabar also through listening Grabar through liturgies and poetry. The instructor of Grabar will also speak a lot in Grabar during class so the participants have more interaction with classical Armenian.
Speaking: Participants will be forced to speak Old Armenian and tortured if not, just like in ancient schools. This methodology of language teaching has been productive at all times :) (this is a joke, no one will be tortured, it will even be impossible because the class is online).
Writing: Each day the participants will have writing assignments and homework to complete for the next day.
Reading: Everyday students will read and discuss scriptural, historical, and liturgical texts and poetry also from manuscripts. If requested, the participants will gain the basic skills to read and interpret medieval Armenian epigraphy.
- Scriptural readings will include the Gospel of Sant John, the Book of Genesis, and (ad libitum) any other text from the Classical Armenian Bible.
- Historical corpus will include excerpts from Agathangelos (V c.), Pavstos Buzand (V c.), Yeghishe (V c.), Movses Korenatsi (V c.), Arakel Davrizhetsi (XVII c.), and Mikael Chamchyants (XVII c.).
- Readings from philosophical texts will be taken from Yeznik Kolbtsi (V c.) and (ad libitum) Davit Anhalt (VI c.).
- From liturgical corpus excerpts from Armenian Missal (p\Pataragamatuyts), Breviary (Zhamagirk), and Book of hymns (Sharaknots). Authors: Mesrop Mashtots (V c.), Hovhannes Mandakuni (V c.), Grigor Narekatsi (X c.), Nerses Shnorali (XII s.), Nerses Lambronatsi (XII c.) will be used as reading materials.
Levels:
This Classical Armenian online language school is designed for participants, at least 18 years-old. The Grabar online course will have 1 group of up to 12 participants.
The participants must already have an upper elementary level of Classical Armenian, Eastern Armenian, or Western Armenian knowledge before starting the classes with ASPIRANTUM. We do not offer beginner classes of Grabar (Classical Armenian).
Upper elementary level (A1-A2): You know the alphabet and can read words and expressions sometimes with difficulties; you can write words, expressions, and sentences in Classical Armenian or Modern Armenian; You master certain typical phrases in Armenian and know how to write them.
ASPIRANTUM's Classical Armenian language schools are organized in a way that undergraduate and graduate students, researchers, and professors as well as anyone interested in learning Classical Armenian will benefit from it. Thus, everyone with an upper elementary level of Armenian is welcome to apply and participate in ASPIRANTUM's "Classical Armenian" course from February 9, 2021, till April 9, 2021, online.
Instructor: The "Classical Armenian" online course will be taught by Dr. Ani Shahnazaryan.
Deadline:
The deadline to apply to the "Classical Armenian" online course is January 31, 2021.
To apply, please fill in the application form below.
Participation Fee:
The participation fee for the 9 weeks Classical Armenian online course is $1200.
Discount
Need-based discounts will also be available. Please send an email to [email protected] describing your situation and we will consider your case individually.
Each participant of the online school may find sources of financial aid from their own University/School/Community or other relevant foundations.
Letter of Invitation
If necessary, ASPIRANTUM will provide applicants with an official letter to support scholarship applications.
Maximum capacity in the group: 12 students
Communication medium: The online course will be organized through Zoom.
To apply please fill in the application form below.
Registered participants should send 100% of the participation fee before February 5, 2021, online via debit/credit card (Visa or Mastercard).
For questions and inquiries please contact [email protected] or Whatsapp Dr. Khachik Gevorgyan +374-91-557978
To apply, please fill in the application form below.
"I knew barely no Armenian when I arrived, the alphabet, a vague inkling of the grammar, some words, and by the time I left I was able to understand the logic of most texts I came across, and to become independent in my studies."

Miguel Monteiro

MA student, University of Coimbra, Portugal

"My expectations were high, and yet I was pleasantly surprised. I left the course with a thorough understanding of the grammar, a fundamental vocabulary, and all the resources to build upon it myself."

Rasmus Thorsø Nielsen

PhD student, Leiden University, The Netherlands

"This is a unique and well run course, perfect for anyone hoping to make good progress in a short amount of time. I recommend the Armenian Language School to anyone learning Modern Eastern Armenian."

Alyssa Maria Mathias

PhD Candidate, Ethnomusicology, UCLA, USA

"The teaching program and teacher were professional on one hand but also very flexible on the other."

Jakub Osiecki

Post-Doc, Jagiellonian University, Poland

"I was very pleased with my experience in Armenian language winter school 2016. The teacher and organizers were both personal and professional, responding very quickly to any and all inquiries and making everything about the application process and other logistical arrangements as smooth and painless as possible."

Jesse Siragan Arlen

PhD Candidate, Near Eastern Languages and Cultures, UCLA, USA

"The language course and trip to Armenia far exceeded my expectations in every way. By the end of the course I had achieved more than I had expected and feel well-prepared to continue with self-study, until such time as I am able to attend another course, which I very much hope I will be able to do at some point."

Rachel Dryden

PhD student, University of Cambridge, UK

"The intensive winter course I participated in was a great experience not only of learning but also social and cultural. I highly recommend it. During the course we completed an entire overview of Armenian grammar in a very well structured and clear manner."

Yakir Paz

Post-Doc, Hebrew University of Jerusalem, Israel

"As a multi-language learner, the Armenian language classes were the best of the classes I have taken so far. In class we learned vocabulary and grammar, and practiced each of speaking, listening, writing and reading. The class consisted of both learner at intermediate level of Armenian and learner at elementary level, and everyone realized progress in their Armenian."

Chihiro Taguchi

Student, Department of Political Science, Keio University, Tokyo, Japan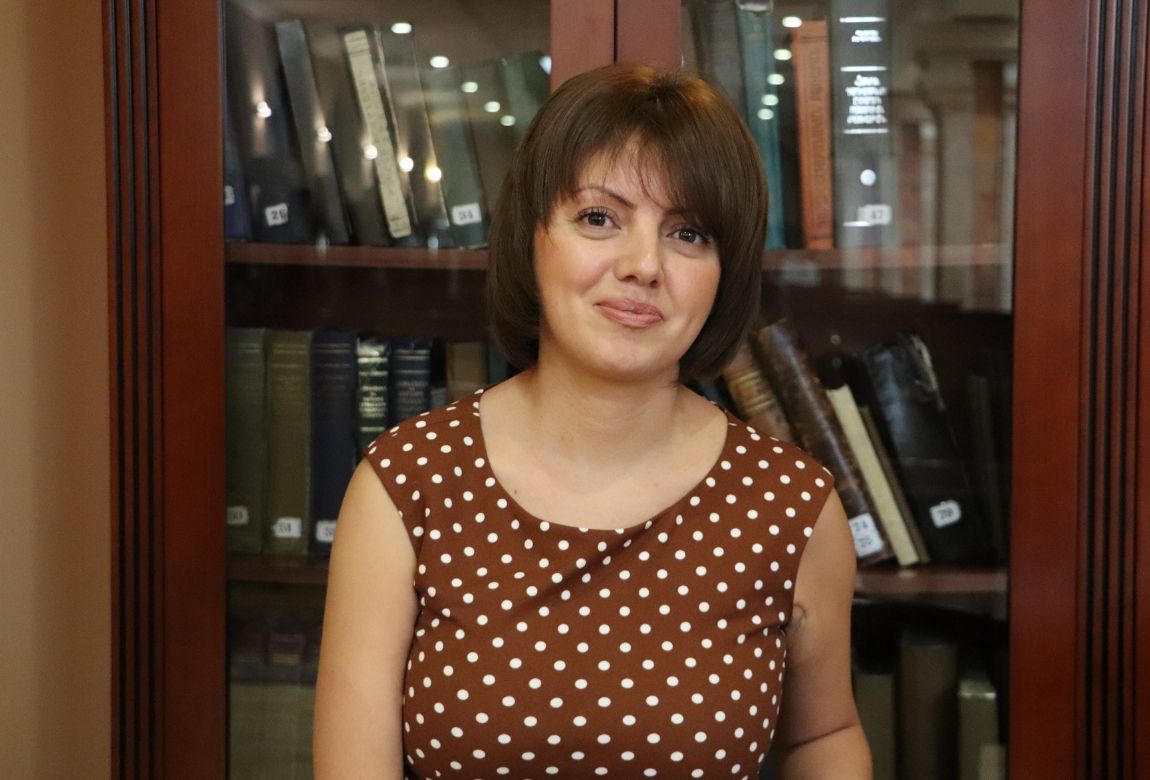 Ani Shahnazaryan teaches Armenian using her academic background in old, medieval and modern Armenian language and literature.
Classical Armenian (Grabar)
This is an intensive Classical Armenian (Grabar) course that aims at giving students experience in reading and interpreting a wide range of Classical Armenian texts. After an initial introduction to the grammar and syntax of Grabar, students will read a variety of texts including biblical texts; liturgical texts (Pataragamatuyts, Zhamagirk, Sharaknots); hagiographic texts; historical literature of the 5th-9th centuries; historical literature of the 10th-14th centuries; religious and secular verse.
Learn More
Apply
After you fill in all fields and press the APPLY button you will receive an email with the copy of your application, which will confirm, that we have received your application. If you do not receive the mentioned email with the copy of your application form within 20 minutes please send an email to us at [email protected]
See Other Armenian Language Courses
Armenian Language Summer School, from Jul 04, 2021 to Jul 24, 2021 (3 weeks)
Armenian School of Languages and Cultures - ASPIRANTUM is organizing Armenian language summer school in Yerevan, Armenia. The 6 weeks Armenian language summer school will start on July 4, 2021 and will last till August 14, 2021. Applicants may also request to participate in a longer program.
Learn More