Check Upcoming Persian Language Courses
Persian Language Semester Program and Internship, from Jan 14, 2024 to May 04, 2024 (16 weeks)
Armenian School of Languages and Cultures - ASPIRANTUM is organizing the fifth 16-week Persian language semester program in Yerevan, Armenia. The fifth 16-week semester program of Persian language will start on January 14, 2024, and will last till May 4, 2024 (111 days, 300 hours of Persian language instruction).
Learn More
Persian Language Summer School, from Jul 07, 2024 to Aug 30, 2024 (8 weeks (or 4-7 weeks))
The Armenian School of Languages and Cultures - ASPIRANTUM, is organizing a Persian language summer school in Yerevan, Armenia. The program will last for 8 weeks, starting from July 7 to August 30, 2024. Interested participants can also choose a shorter program of 4, 5, 6, or 7 weeks. To get more information and to apply, please refer to the details provided below.
Learn More
Armenian School of Languages and Cultures - ASPIRANTUM is organizing an Old Persian online course. The 3 week-long Old Persian online course will start on March 7, 2022, and last till March 25, 2022. The Old Persian language online course will help the participants become proficient in reading and interpreting Old Persian texts.
The first Old Persian online course, organized from May 10 till May 28, 2021, had 6 students. The second Old Persian online course, organized from October 25 till November 12, had 5 students. You can find the testimonials of all students here: https://aspirantum.com/testimonials
Now the application for the third Middle Persian online course is open. It will start on March 7 and will last till March 25, 2022.
This course will be organized on Mondays, Tuesdays, Thursdays, and Fridays each week (4 days each week, 12 days over three weeks) and will include 42 hours of intensive Old Persian teaching (3.5 hours during each day).
The students will receive a detailed syllabus of each day's class. The full syllabus is available here: https://aspirantum.com/curriculum/old-persian-syllabus.
We are planning to start the online classes at 9 PM Yerevan time. This time is mainly comfortable for the students from European and American countries. Depending on applicants' geography, the time may be changed, and all applicants will be informed about the time changes before the course.
Classes each day will be divided into the following sections:
First class - Homework and discussion
Break
Second class - Old Persian Grammar and Readings
Break
Third class - Old Persian Readings
During the Old Persian classes, the following components will be covered every day:
Grammar: Everyday class will cover the main grammatical concepts of the Old Persian language.
Vocabulary: During the 3 weeks (42 hours) course, the participants will learn more than 500 new Old Persian words.
Speaking: Participants will be forced to speak Old Persian and tortured if not, just like in ancient schools. This language teaching methodology has been productive at all times :) (this is a joke, no one will be tortured, and it is impossible because the class is online).
Translation: Each day, the participants will have translation assignments and other homework to complete for the next day.
Readings: During the course, students will read several Old Persian texts, including the lengthy Behistun and Naqsh-e Rustam texts of Darius I, as well as some shorter interesting texts, including the Daiva Inscription of Xerxes I and the first Susa text of Artaxerxes II.
The Behistun Inscription is the first text in Old Persian and is one of the most important inscriptions in the world. Since it is a trilingual text written in three languages that utilized cuneiform writing, it is essentially the Rosetta Stone of the cuneiform world. Utilizing the data of the Behistun Inscription, scholars were able to decipher cuneiform and thus learned to read several languages in addition to Old Persian, such as Akkadian, Sumerian, Hittite, Urartian, etc. It is essentially a chronicle of part of the reign of Darius I, one of the most notable kings of the Achaemenid Empire. The Naqsh-e Rustam texts of Darius I are more introspective and deal with topics such as royal authority and religion. The Daiva Inscription of Xerxes I is one of the most peculiar Achaemenid royal inscriptions, regarding the worship of "daiva" demons in an unspecified province of the Empire and how Xerxes put a stop to it. The first Susa text of Artaxerxes II is not a long one, but it is notable for being the first time an Achaemenid king invokes other gods in addition to Ahura Mazda.
The benefits of the course: Familiarity with Old Persian benefits not only for those interested in Iranian linguistics, history, and religion but also for students and researchers interested in a more in-depth understanding of the Classical Greek world. While most are aware of the Achaemenid Persian history through the lens of Greek and Roman historians, reading the Old Persian inscriptions gives one a more thorough perspective to better understand the period.
Truly understanding the history of the Achaemenid Persian Empire is impossible without an understanding of the Old Persian texts.
Knowledge of Old Persian will also provide the student with the necessary tools for a better understanding of other ancient Indo-European languages, including Sanskrit and Avestan. The lexical and semantic patterns that are especially important for a correct understanding of the meaning of Old Persian will be covered. Some time will be spent explaining and exploring various cultural, historical, and social aspects of the Achaemenid Persian Empire.
It is hard to overstate Old Persian's importance for a correct and deep understanding of Achaemenid Persian religion and political ideology.
The student will also be given various academic articles on Old Persian and its context, which will provide them with a deeper understanding of the academic principles at work behind our current knowledge of the language.
Goals:
Familiarity with the Old Persian cuneiform script

Learning c. 500 Old Persian words.

Recognizing the main features of Old Persian grammar

Being able to read and interpret Old Persian texts
Required prior reading: P. O. Skjærvø, Introduction to Old Persian, Chapters I-III.
Levels:
The Old Persian online course will have 1 group of up to 10 participants. The participant's background in linguistics and history is preferable. No prior knowledge of Modern or Middle Persian is required. The language of instruction is English.
ASPIRANTUM's Old Persian language course is organized so that undergraduate and graduate students, researchers and professors, and anyone interested in learning Old Persian and becoming familiar with the corpus of Achaemenid Persian royal inscriptions will benefit from it.
Instructor: Mr. Nshan Kesecker will teach the "Old Persian" online course.
Deadline:
The deadline to apply to the "Old Persian" online course is February 15, 2022.
To apply, please fill in the application form below.
Participation fee:
The participation fee for the 3 weeks Old Persian online course is $900.
Discount
Need-based discounts will also be available. Please send an email to [email protected] describing your situation, and we will consider your case individually.
Each participant of the online school may find financial aid sources from their own University/School/Community or other relevant foundations.
Letter of Invitation
If necessary, ASPIRANTUM will provide applicants with an official letter to support scholarship applications.
Maximum capacity in the group: 10 students
Communication medium: The online course will be organized through Zoom.
To apply, please fill in the application form below.
Registered participants should send 100% of the participation fee before March 1, 2021, online via debit/credit card (Visa or Mastercard).
For questions and inquiries, please contact [email protected] or Whatsapp Dr. Khachik Gevorgyan +374-91-557978
To apply, please fill in the application form below.
"Learning about Old Persian made me understand the intricacies of modern Indo-European languages and their interconnectedness as well. It was a tough few weeks but I'd recommend anyone who either has an interest in the history of Persia or the Persian language to take this crash course."

Hans Schaap

Rijksuniversiteit Groningen, Netherlands

"My instructor Nshan Kesecker was very informative and helpful. He was not only knowledgeable in the language and ancient Iran, but he also encouraged us to take insights into certain historical events. I recommend this course to anyone who's interested in ancient cultures and languages!"

Jaehyun Lee

Undergraduate Student, Purdue University, West Lafayette, USA

"ASPIRANTUM's Old Persian online course exceeded all my expectations. I am incredibly thankful for ASPIRANTUM for creating this course and I would recommend it to anyone who has an interest in ancient history, linguistics, or languages in general!"

Jake Pawlush

Former Undergraduate Student at the State University of New York at Buffalo, USA

"Old Persian online training by ASPIRANTUM was one of its kind programs. After attending it, I am now easily able to read Royal Achaemenid Inscriptions & several Old Persian texts."

Shailesh Kshirsagar

University of Mumbai, India

"I left the course not only with a working grasp of Old Persian but also with a heightened awareness of aspects such as the royal ideology, religious, and geopolitical context around the time of the writing of these inscriptions in the Achaemenid Empire."

Sydney Ward

Undergraduate Student, McGill University, Canada

"I would recommend anyone interested in the world of Achaemenid Persia to take an Old Persian class with Nshan. He was knowledgeable as an instructor and friendly as a colleague/friend. He also has many good stories to share, so the redundant "thatiy Darayavahush xshayathiya xshayathiyanam" would not be too unbearable:)."

Yang Han

Classics Student, Oberlin College, USA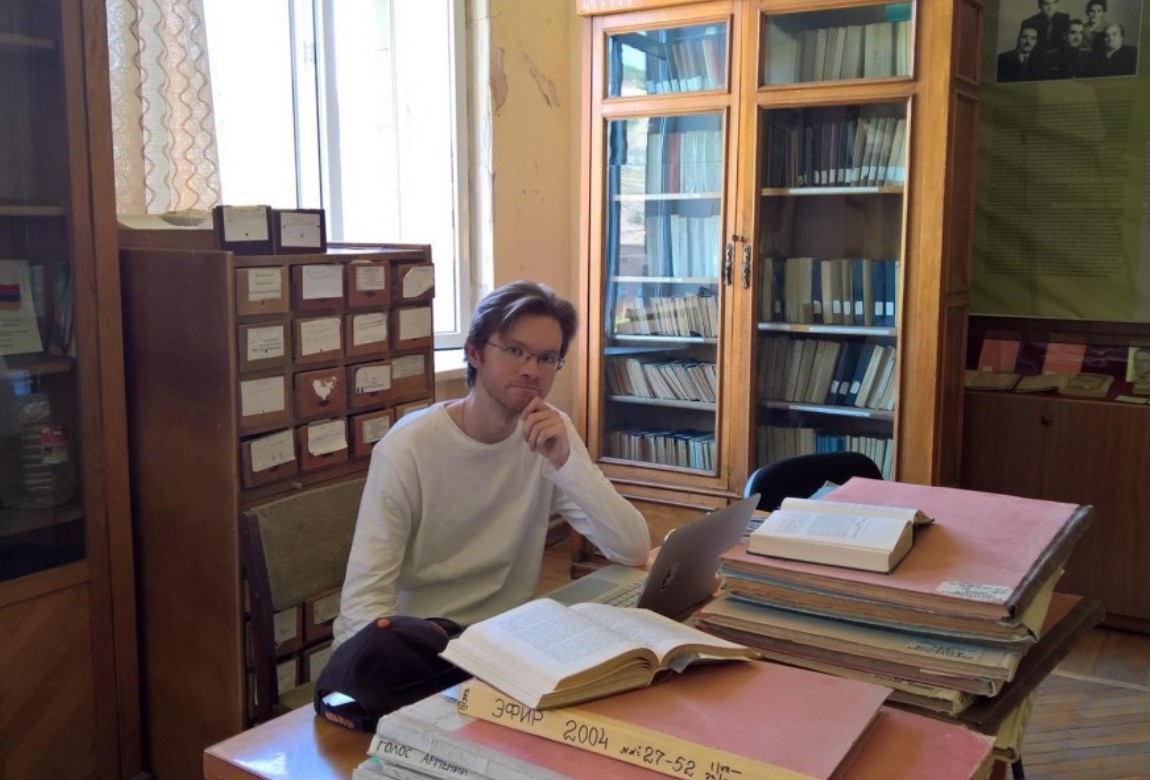 Nshan Kesecker is an expert when it comes to studying Ancient Near Eastern royal inscriptions. He is an expert in Mesopotamian and Iranian royal ideology and texts. When taking a course with him be prepared to analyze an inscription from all possible angles, linguistically and contextually.
Old Persian Online Course Syllabus
This three-week intensive course is an introduction to the Old Persian language. Students will learn the language by studying several Achaemenid Persian royal inscriptions, including the famous Behistun Inscription of Darius the Great and the mysterious Daiva text of Xerxes. Thus, this course will give students not only a familiarity with the grammar of Old Persian but also with the corpus of Achaemenid royal inscriptions.
Learn More