Persian dictionaries have a long and interesting history that is full of beautiful examples of art, and calligraphy.
Persian dictionaries that are written after Islam until the 15th century, are monolingual, short and on specific themes - often organized in the last letter of the word for the use of poets who could use the words in rhymes.
The number of Persian language dictionaries increased significantly between the 15th and the 20th century. Unlike the previous period, dictionaries were organized in alphabetical order, so they could be used by ordinary people.
Persian Dictionary Authors and Contemporary Persian Dictionaries
Loghat Name-ye Dehkhodā - لغت‌نامۀ دهخدا (Dehkhoda Dictionary)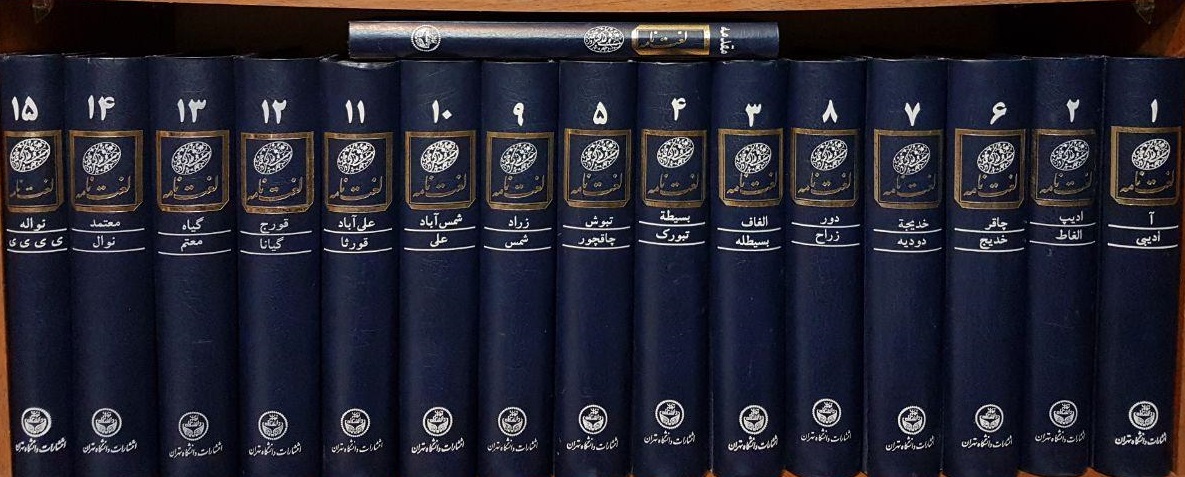 Dehkhoda Great Dictionary, first published in 1931, is a comprehensive dictionary that contains the description and meaning of Persian language vocabulary. The dictionary is the greatest and most important work of Ali Akbar Dehkhoda (1879-1956), who spent over 40 years on collecting and organizing the material.
His work includes a significant number of Arabic loanwords as well as their meaning, commentary, and historical description. The dictionary contains the literary vocabulary of Persian language, with its meaning and the application in poetry. However, it does not contain much of the Persian scientific and technical vocabulary. This kind of vocabulary was mostly created after the dictionary was written. The current edition consists of 67,265 pages - each page includes three columns and it has around 350,000 entries.
About half of the dictionary are words with explanation of their meaning, and the other half is historical and geographical proper names. This dictionary holds all words of the manuscript and printed Persian dictionaries with corrections. It includes many words of Turkish, Mongolian, Hindi, Arabic, French, English, German, Russian and other languages that were used in Persian. To read the entries correctly, diacritics are used. The author also included a full course of Persian grammar.
According to Dehkhoda's instructions, after his death, coordination and management of the dictionary were done by Mohammad Mo'in, a prominent Iranian scholar of Persian literature and Iranian Studies.
Dehkhoda Dictionary is the largest comprehensive Persian dictionary ever published. It is published by the Tehran University Press (UTP) under the supervision of the Dehkhoda Dictionary Institute.
Farhang-e Fārsi-ye Mo'in - فرهنگ فارسی معین (Mo'in Farsi Dictionary)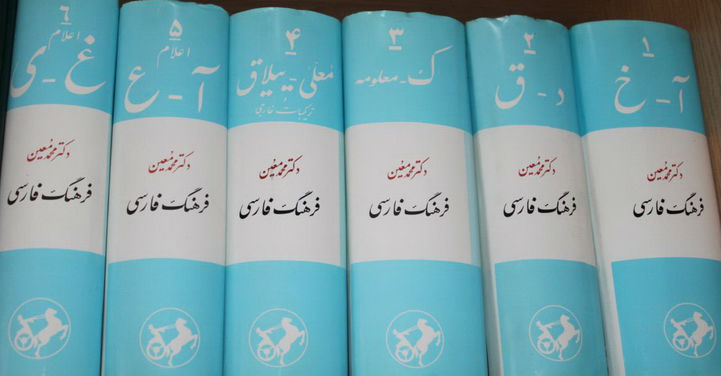 Mo'in Dictionary is one of the most important monolingual encyclopedic dictionaries of the Persian language.
Mohammad Mo'in (1914-1971) and his research team dedicated 20 years to collect around 300,000 records and compiled the entries of the dictionary. The dictionary was published by Amir Kabir Publishers in 1963 - 1973. Four volumes of the six-volume dictionary are dedicated to Persian words and expressions and two volumes to proper nouns.
The dictionary allows accessing information about Persian vocabulary and terms with roots in Iranian, Arabic, Turkish, Mongolian, Indian as well as European languages. The dictionary also provides pronunciation, etymology, derivation, and compounds.
The dictionary has not been edited or updated since it was first published in 1973.
Farhang-e Fārsi-ye Amid - فرهنگ فارسی عمید (Amid Farsi Dictionary)
| | |
| --- | --- |
| Amid Dictionary 1st Volume | Amid Dictionary 2nd Volume |
Amid Dictionary is a two-volume monolingual Persian dictionary compiled by Hassan Amid (1910-1979).
The dictionary includes not only Persian but also Arabic, Turkish and European terms used in Persian, as well as literary and scientific words.
Hassan Amid firstly, in 1954, published a dictionary titled Farhang-e No (فرهنگِ نو, meaning New Dictionary) that had 936 pages. Later on, in 1963, he published the most complete dictionary, Amid Dictionary (فرهنگِ عمید), that included 1114 pages.
The dictionary describes pronunciation and the language of origin, some of the entries include pictures and photos. Also, the dictionary almost does not cover the names of places, cities, authors, and artists.
The glossary was edited and compiled again by Farhad Ghorbanzadeh and a group of scholars and linguists and was published again in 2010.
Farhang-e Sokhan - فرهنگ سخن (Persian Dictionary of Sokhan)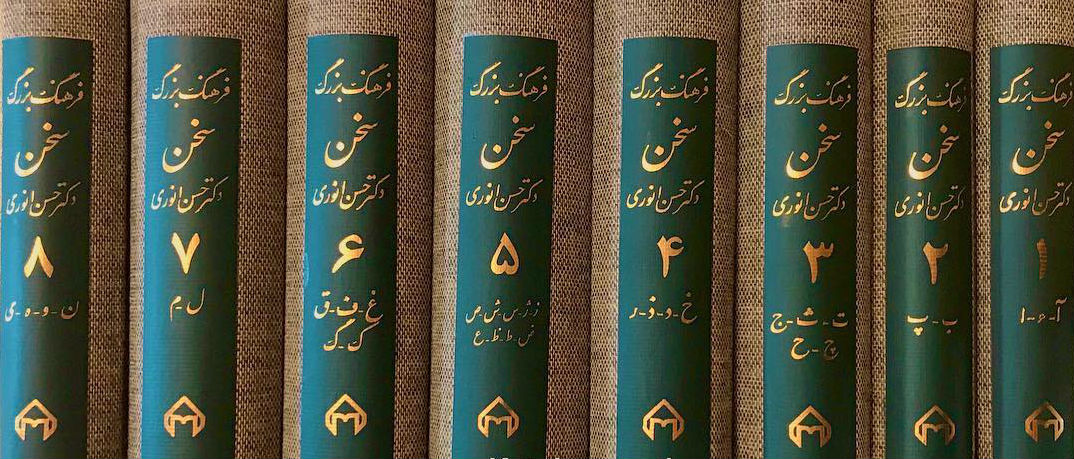 Sokhan Dictionary is one of the latest Persian monolingual dictionaries compiled by Hassan Anvari (1934-).
The glossary has two main editions: the eight-volume Great Edition (large dictionary) published in 2003, and the two-volume Small Edition (compact dictionary). The second piece does not cover the etymology of the words and does not include colloquial and archaic words.
The Great Edition includes not only archaic words but also scientific terms, and expressions used in modern Persian. The dictionary has been published by Sokhan Publications.
فرهنگ روز سخن (Farhang-e Ruz-e Soxan) published in 2010 is a one-volume monolingual dictionary which is comprised of common words and expression of the Persian language and includes less scientific entries.
ذیل فرهنگ بزرگ سخن (Zeyl-e Farhang-e Bozorg-e Soxan) is an addendum to the Great Edition which was published later. It includes missed or new entries, correction of some entries and their documentations.
Farhang-e Mo'aser-e Fārsi - فرهنگِ معاصرِ فارسی (Contemporary Farsi Dictionary)
| | |
| --- | --- |
| Farhange moasere Farsi 2nd edition | Farhange Moasere Farsi 4th edition |
Contemporary Dictionary of Persian is a monolingual Persian dictionary compiled by Gholamhossein Sadri-Afshar (1935-2018), in cooperation with Nasrin and Nastaran Hakamis (Hakami sisters). The dictionary won Iran's Book of the Year Award in 2000.
Titled فرهنگِ زبانِ فارسیِ امروز (Farhang-e Zaban-e Farsi-ye Emrouz), the dictionary first was published in 1990. The dictionary was published as فرهنگ معاصر فارسی (Farhang-e Mo'aser-e Farsi) from the third publication on.
So far the dictionary has been published in four editions.
Farhang-e Zabānāmuz-e Fārsi (Barā-ye Zabānāmuzān-e Moqqadamāti) - (فرهنگ زبان‌آموز فارسی (برای زبان‌آموزان سطح مقدماتی (Dictionary of Persian Language Learner (For Elementary Language Learners))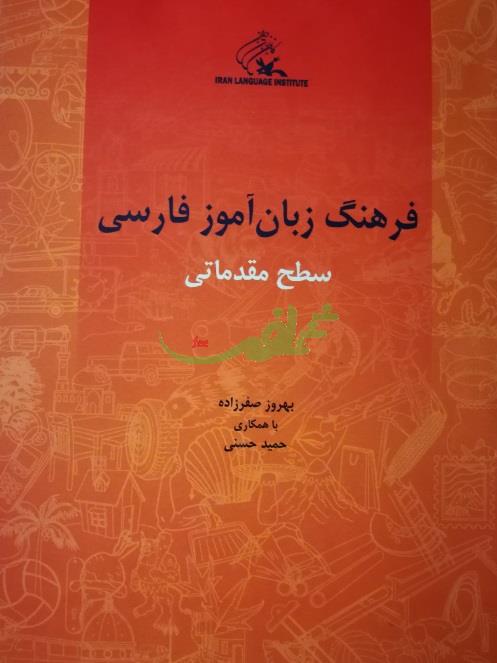 This dictionary was compiled by Behrouz Safarzadeh with the cooperation of Hamid Hassani.
It was published in 2009-2010 by Iran Language Institute. The dictionary has 1,230 pages and includes over 5,000 records. It targets foreign language learners of Persian. The glossary is written in an easy to read, and simple language and includes many examples.
Farhang-e Mozu'i-ye Fārsi (Rahnama-ye Vāžeyābi) - (فرهنگِ موضوعیِ فارسی (راهنمای واژه‌یابی (Thematic Persian Dictionary (Glossary Guide)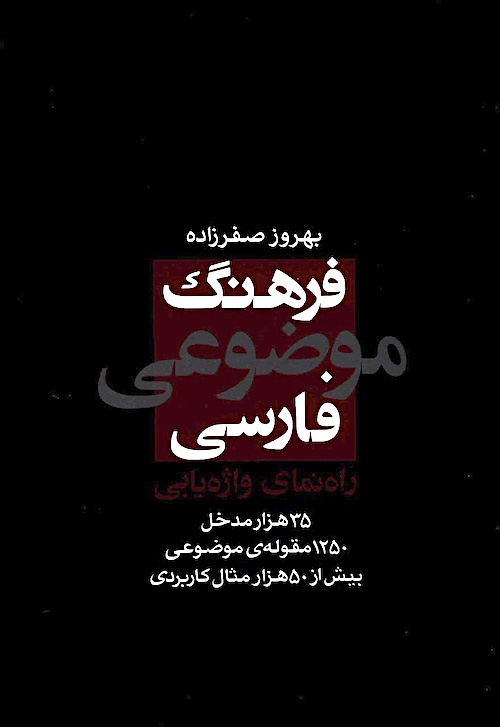 فرهنگ موضوعی فارسی is a monolingual Persian dictionary created by Behrouz Safarzadeh.
The dictionary includes 35,000 words and terms common in the Persian language. It is divided into 22 chapters and 1,250 categories. The terms are sorted by subject and their meaning relationships, and not in alphabetical order. One of the significant features of the dictionary is collocation. The authors have used around 5,000 examples in the dictionary. This one-volume dictionary has 2,080 pages.
Farhang-e Jāme'-e Zabān-e Fārsi - فرهنگ جامع زبان فارسی (Comprehensive Dictionary of Persian Language)
Since 1998 linguists at the Academy of Persian Language and Literature (APLL) are working on this multi volume dictionary.
The first volume of the dictionary (حرف آ) was published in 2013-2014 and the second volume (ا ـ اخیی) in 2017-2018. Next volumes will be published in alphabetical order in the upcoming years.
Iranian linguist Ali Ashraf Sadeghi (1941- ) is the senior editor of this dictionary. Some of the features of the dictionary are: it is based on computer text corpus, it is comprehensive and includes all eras of Persian language, it is etymological, it includes modern scientific terms as well as new words approved by APLL.
A Frequency Dictionary of Persian: Core Vocabulary for Learners - فرهنگ بسامدی فارسی: واژگان پایه برای زبان‌آموزان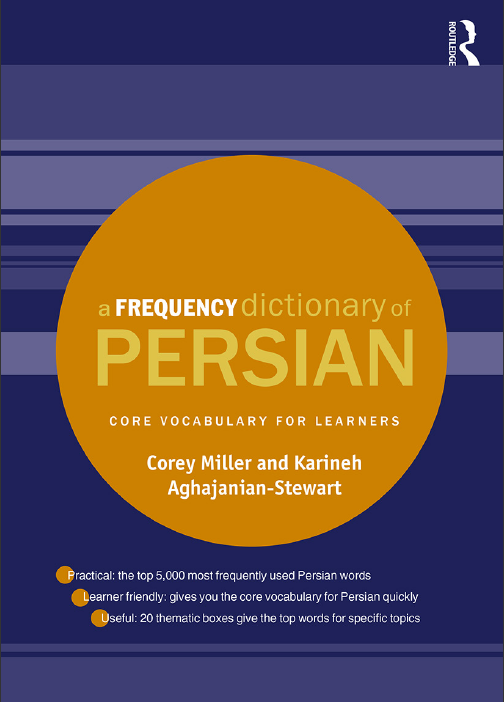 A Frequency Dictionary of Persian was created by Corey Miller and Karineh Aghajanian-Stewart. The piece was published in 2018 by Routledge, and is one of the Routledge Frequency Dictionaries series.
The dictionary includes 5,000 most frequent Persian words and is based on alphabetical order. The glossary provides with term's part of speech, examples, and the English equivalents. The dictionary also includes a CD.
Online Persian Dictionaries
Parsi Wiki - پارسی ویکی

Parsi Wiki is an online monolingual dictionary with a purpose to develop an online Persian glossary based on the dictionary of the late Ali Akbar Dehkhoda as well as new words in Persian language. The software provides the possibility to expand Persian vocabulary by editors.
Vazheh Yab - واژه یاب

Vazheh Yab is another online dictionary which includes a number of Persian monolingual dictionaries such as Dehkhoda Dictionary, Mo'in Dictionary, Amid Dictionary, as well as dictionary of synonyms and dialects and other dictionaries.