Language-learning apps like DuoLingo, Babbel, or Busuu are user-friendly with easy-to-use options for language enthusiasts.
Sadly, these popular apps still do not offer courses in Persian. That is why we have looked for other options in the app store, play market, websites, and youtube channels.
What comes below are apps and websites that we present here just as information for Persian language learners. We are not in the capacity to recommend any of those resources nor we are advertising any of the apps or websites. If you know about any other Persian learning resources please write us an email.
Before checking all available online opportunities to learn Persian below please check the Persian course by ASPIRANTUM.
Best Apps to learn Persian
Here you can find some apps that can be useful for both the beginner and intermediate-level students of Persian, which we have found on the Play Store.
These apps are useful for practicing Persian, enriching your vocabulary, and learning how to converse.
Learn Persian by Mondly
Apple Store || Google Play
Price: Free or $8.67 per month / $41.03 per year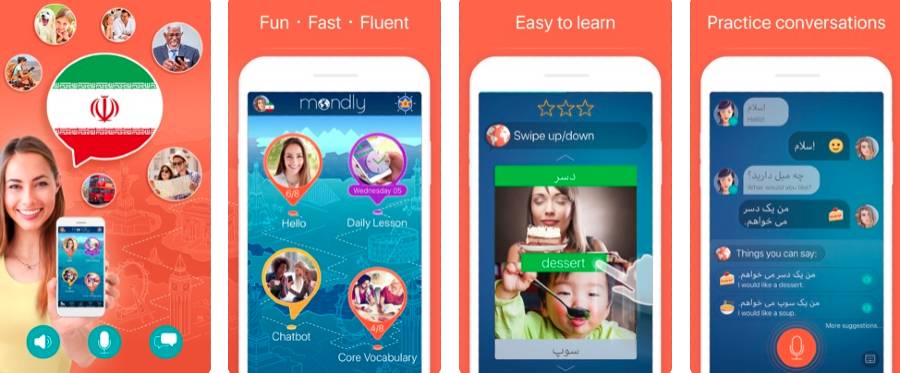 This app will be great if you are already familiar with the basics of the language (like alphabet and grammar) and would like to improve your conversational skills.
This app will also help you memorize various words and expressions, practice Persian exercises for reading, listening, writing and speaking enhanced with a dictionary, verb conjugator and state-of-the-art speech recognition technology.
Learn Persian Free
Google Play
Price: Free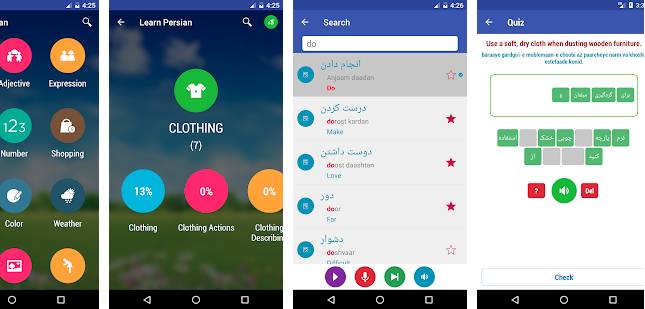 This is another good app if you want to strengthen your vocabulary and learn new conversational phrases.
It contains over 9000 common Persian words and phrases with good audio quality, which you can use online as well as offline.
Persian Alphabet
Google Play - (currently not available)
Price: Free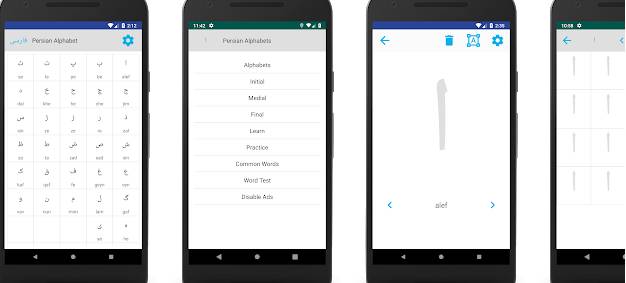 A useful app for learning and practicing the Persian alphabet.
You will also find useful charts for the various positions of the letters.
Persian Phrases - Learn Persian Speaking
Google Play (currently not available)
Price: Free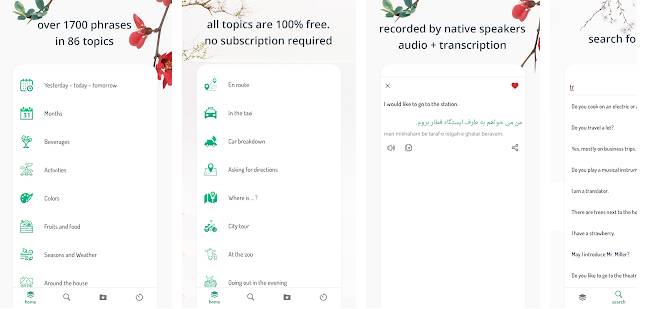 A simple app for learning and practicing new words, phrases, and sentences.
Web resources to learn Persian
Here you can find some websites that can be useful for both the beginner and intermediate-level students of Persian, which we have found on the Web.
While using these websites, you don't need to confine yourself only to one or two courses. You can use them interchangeably.
Thus, you can learn the alphabet on one website (e.g. ANU Persian Online), then start learning grammar on the other (e.g. Learn Persian Online) and then practice the language on another (e.g. Persian Language Online).
Price: Free or you need to pay for some books

This is a website for all level learners. Here you can find beginner courses, intermediate-level courses, and advanced level courses.
The website is very hard to navigate, it is full of strange ads on all pages. It seems that the website is created just to sell some books.
These are their courses:
Read and Write the Persian Language in 7 Days
In this brief 7-video course for beginners you will learn the Persian (Farsi) alphabet, the basic concepts of grammar and a minimum vocabulary. A
In this course, Days 1 to 30 are for complete beginners, Day 31 to 70 are for intermediate Persian learners, and Day 71 to 100 are for advanced level students.
Price: Free

Persian Language Online course by Iran Heritage Foundation is a great and helpful source for learning Persian. This course has really great stuff to offer for improving your listening and reading skills, enriching vocabulary and practicing. You can check their introductory video.
All the materials available are absolutely free.
However, there is a small catch. Persian Language Online would be great for those, who already have at least some basic knowledge of the alphabet and grammar.
As I said, it is a great source for improving and sharpening your skills. But if you are a total beginner, you would be better off to have some guidance or start with another course, and after having mastered the basics, come and enjoy this course.
Price: Free / Read & Write $19.99 / All Access $29.99

Through their series of audio lessons, Chai & Conversation will help you navigate the Persian language from a complete beginner level to a competent conversational level.
In the lessons, the host Leyla teaches the Persian language to Matt, a total beginner. You learn along with him, learning from his mistakes and questions, and having a wonderful time along the way.
The full course is divided into 6 core units of 10 lessons each. Each unit has a different theme focused on getting you to learn the language more efficiently. There are also 2 additional units. If you love Persian poetry, you are going to enjoy Unit 7, which is about Persian poetry. Also you can find podcast-lessons on the website.
You can also sign for membership and have access to the Read and write Persian section, which will introduce you to Persian script and teach you to read and write in the Persian language. The videos are accompanied by PDF Guides that are easy to understand and provide plenty of reading and writing exercises.
I am sure you will enjoy this lovely course by this nice couple, Leyla and Matt.
Price: Free / Enrollment fees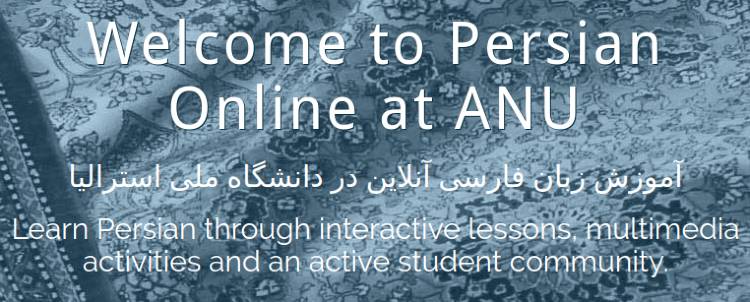 Quite an interesting and useful online course for those of you who are seriously interested in Persian. The course is offered by the Australian National University. There are four levels to complete (Introductory A & B, Intermediate A & B). Each level has 13 lessons.
Introductory A level is open to all and you can start studying it right now. This is the first lesson of Persian and it will be useful for learning the alphabet.
However, for completing the next levels, you are required to enroll at the ANU or apply as an international student from other international universities. You can find more information on the introductory page of Persian Online.
If you have any questions, you can write an email to the Centre for Arab & Islamic Studies at ANU (you can find the email address at the bottom of that page).
Price: Free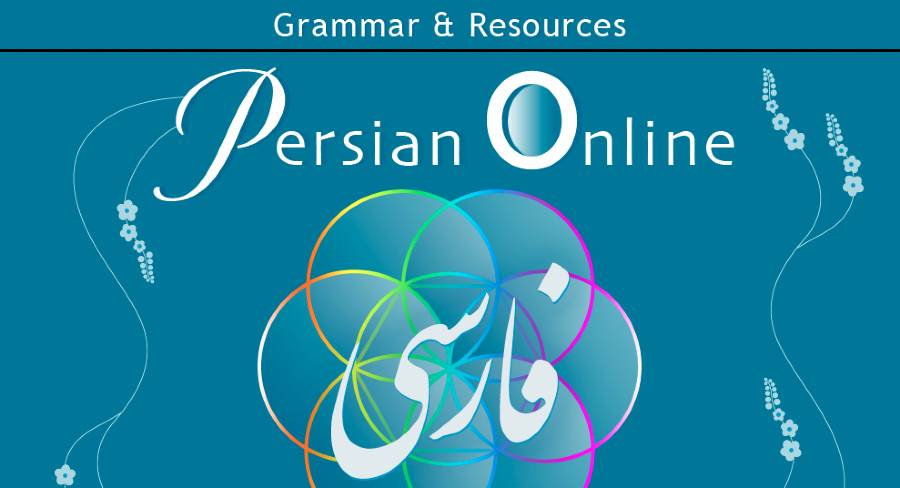 This free online source created by the University of Texas at Austin may be useful as a web-based supplemental resource and reference grammar of Persian.
You can find the main subjects organized in the left navigation menu. Grammar points are explained
There are short videos in the Culture & Video section, Vocabulary Lists with audio for study, and multiple-choice Persian Quizzes for review. For writing assistance, see The Writing System and How to Type in Persian.
Price: Free sample lessons / $89 - $449
If you are rather interested in the spoken Persian classes, you might consider the Fluent Farsi online course. This is a vernacular-oriented Persian course that consists of 80 Persian lessons presented in 24 professional videos, each video 30 minutes on average.
The focus of Fluent Farsi is to teach you "original and authentic spoken" Farsi. You are supposed to be able to orally communicate with native Persian speakers after completing the course.
After creating an account you will have access to their sample videos, which will help you make your choice.
Price: Free

If you love good old-fashioned textual courses, then you are going to love this website from the early 2000s.
Easy Persian website offers online lessons in listening, reading, and writing Persian. In addition to Persian language lessons, the site introduces contemporary Iranian poets with English translations of their poems, different songs, etc. You will also find free Farsi/Persian software, Persian writing exercises, etc.
At the current moment, there are 181 Persian lessons available on the website.
The idea of a written course might seem a little bit appalling in our age of high digital standards and entertained learning (and I would agree with you), but the idea of having a textual companion to consult with every now and then sounds nice, doesn't it?
Price: Free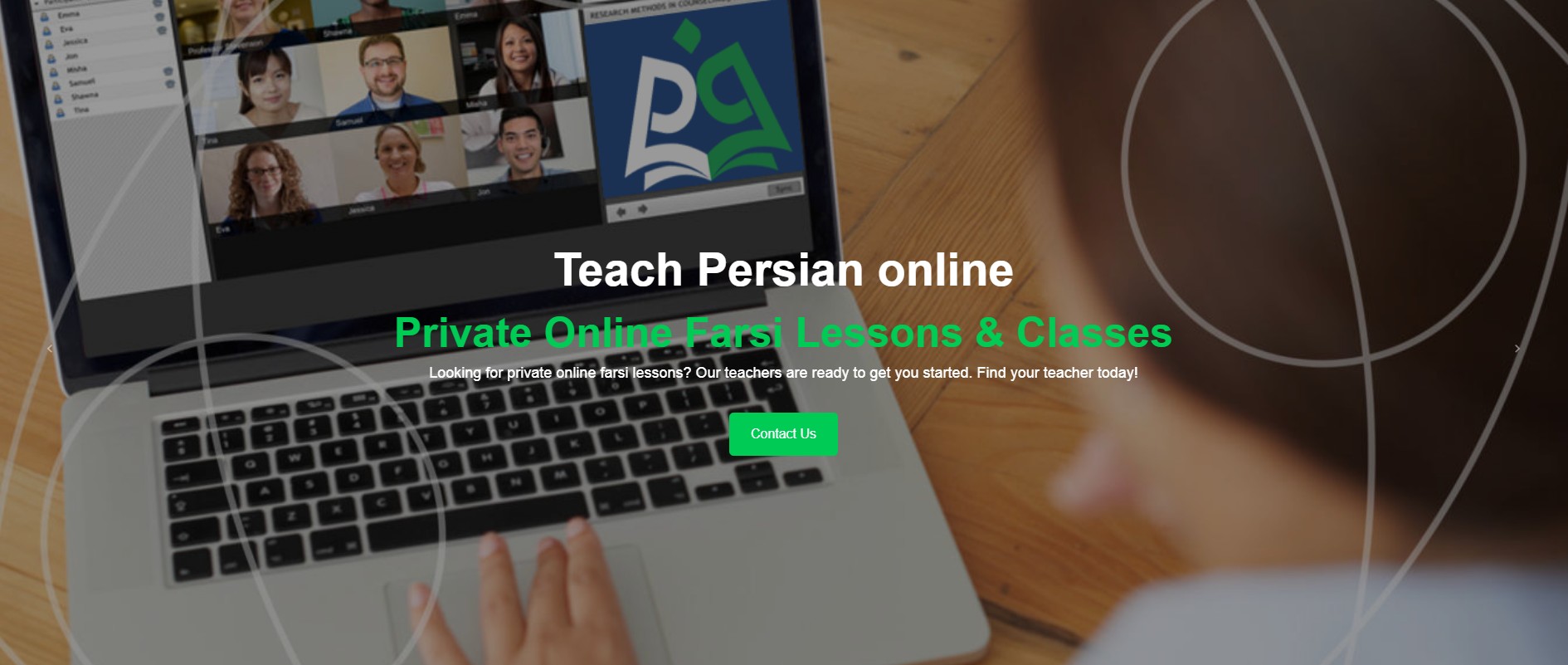 LearnPersian.us is a free online portal for Persian lovers who want to learn this language from scratch.
The website is laid out in both English and Persian languages, meaning that you can easily view every page's content in either of the languages you prefer. This is a great asset for learners to put their knowledge to the test.
You can find useful content on Courses, Blog, Conversation Learning, Tourist Attraction, and Happy News sections on the site. Plus, the team regularly publishes additional educational content in their Facebook group and on the YouTube channel, where you can contact them directly.
Other sources for improving your Persian
I hope this list of websites and apps that offer courses and learning materials for the Persian language was useful to you. Learning Persian is something you won't regret if you do it the right way. These websites will help you in this.
Those of you who already have some knowledge of Persian can always find materials and sources for practice. Today it is not as difficult as, say, 30 years ago.
For this purpose, YouTube and Aparat (the Iranian version of YouTube) will be of great use. You can always find something to watch, like movies, TV shows, documentaries, audiobooks, etc. Check for instance this Iran Documentary channel on YouTube.
There are also interesting stories to watch on the channels of the Persian-language branches of major news-broadcasters, like BBC Persian, DW Persian or Euronews Persian.
And, finally, don't forget to stay safe, wash your hands frequently, and study as much as you can.