Check Upcoming Armenian Language Courses
Armenian Language Winter School, from Nov 05, 2023 to Dec 29, 2023 (8 weeks (or 4-7 weeks))
We extend a warm invitation to international participants to join us for our upcoming 2023 Armenian language winter school. Our Armenian summer and winter courses offer valuable classroom experience, networking opportunities, one-to-one tutoring, academic conversations, delicious cuisine, and exploration of stunning destinations. The winter school is set to run for 4-8 weeks, starting from November 5, 2023, and concluding on December 29, 2023. We highly appreciate your dedication and time invested in learning Armenian, and we assure you of an unforgettable language course experience. We strongly encourage you to apply and be part of this exciting journey. Thank you!
Learn More
Armenian School of Languages and Cultures - ASPIRANTUM is organizing Classical Armenian language summer school in Yerevan, Armenia. The 3 weeks Grabar summer school will start on July 5, 2020 and will last till July 25, 2020. 2020 Old Armenian language summer school will help the participants to become skillful in reading and interpreting Grabar texts.
Armenian School of Languages and Cultures - ASPIRANTUM is organizing Classical Armenian language summer school in Yerevan, Armenia.
The 3 weeks Grabar summer school will start on July 5, 2020 and will last till July 25, 2020.
2020 Old Armenian language summer school will help the participants to become skillful in reading and interpreting Grabar texts.
This 3 weeks Classical Armenian language summer school includes 60 hours of intensive Armenian language teaching during 15 days (from Monday till Friday each week).
Every day the participants will receive Classical Armenian instruction for 4 hours. The classes start in the mornings and the schedule is the following:
09:00 - 10:00 - Grabar class
10:00 - 10:10 - Coffee Break
10:10 - 11:10 - Grabar class
11:10 - 11:20 - Coffee Break
11:20 - 12:30 - Grabar class
12:30 - 12:40 - Coffee Break
12:40 - 13:40 - Grabar class (fourth and final class)
During the Grabar language summer classes the following components will be covered every day:
Grammar: Every day class will cover the main grammatical concepts of modern Armenian language.
Vocabulary: During the 3 weeks course it is anticipated that the participants will learn around 500 new Classical Armenian words.
Listening: The participants will learn Grabar also through listening Grabar through liturgies and poetry. The instructor of Grabar will also speak a lot in Grabar during class so the participants have more interaction with classical Armenian.
Speaking: Participants will be forced to speak Old Armenian and tortured if not, just like in ancient schools. This methodology of language teaching has been productive in all times :)
Writing: Each day the participants will have writing assignments and homework to complete for the next day.
Reading: Every day students will read and discuss scriptural, historical and liturgical texts, poetry, some examples of contemporary classical armenian literary compositions/translations (including a small part of the movie "Lord of the Rings" translated into Classical Armenian and available with subtitles). If requested, the participants will gain the basic skills to read and interpret medieval armenian epigraphy.
- Scriptural readings will include Gospel of Sant John, Book of Genesis and (ad libitum) any other text from Classical Armenian Bible.
- Historical corpus will include exerpts from Agathangelos (V c.), Pavstos Buzand (V c.), Yeghishe (V c.), Movses Korenatsi (V c.), Arakel Davrizhetsi (XVII c.) and Mikael Chamchyants (XVIII c.).
- Readings from philosophical texts will be taken from Yeznik Kolbtsi (V c.) and (ad libitum) Davit Anhalt (VI c.).
- From liturgical corpus exerpts from Armenian Missal (p\Pataragamatuyts), Breviary (Zhamagirk) and Book of hymns (Sharaknots). Authors: Mesrop Mashtots (V c.), Hovhannes Mandakuni (V c.), Grigor Narekatsi (X c.), Nerses Shnorali (XII s.), Nerses Lambronatsi (XII c.) will be used as reading materials.
Levels:
This Classical Armenian language school is designed for participants, at least 18 years-old.
The participants must already have upper elementary level of Classical Armenian, Eastern Armenian or Western Armenian knowledge before starting the classes with ASPIRANTUM. We do not offer beginner classes of Grabar (Classical Armenian).
Deadline:
The deadline to apply to the 3 weeks 2020 Classical Armenian language summer school was March 31, 2020 but because of corona virus emergency worldwide we extended the deadline till May 15, 2020.
To apply, please fill in the application form below.
The testimonials of ASPIRANTUM language summer and winter school alumni are available here: https://aspirantum.com/testimonials
Participation fee:
The participation fee is 1790 USD for the 3 weeks Classical Armenian Language course.
This price includes reading and writing materials, coffee breaks, welcome and farewell parties, transportation and meal costs during cultural trips, some dinners with guest speakers.
We will not cover accommodation, breakfast, lunch, dinner, visa costs, insurance, travel costs to Armenia, from Armenia and in Armenia, any costs of accompanying friends or family members.
To apply please fill in the application form below.
Registered participants should send 100% of the participation fee before June 15, 2020 online or via a wire bank transfer (because of the corona virus emergency we extended the participation fee submission deadline and instead April 30 participants may submit the payment by June 15, 2020).
Trips in Armenia
During the 3 weeks international Classical Armenian language summer school 3 trips will be organized to the most popular cultural heritage sites of Armenia. On the first day (5 July 2020, Sunday) the school will start with a trip to the Garni pagan temple and Geghard Monastery. During 2 other weekends the participants will have guided trips to Amberd fortress and Lake Sevan.
Accommodation in Yerevan
Previously our summer and winter school participants have found great accommodation deals through airbnb. Airbnb works perfectly in Yerevan and it is very easy to search and find a proper place. ASPIRANTUM staff is always ready to guide you and help to find the best accommodation through airbnb. Please also check our detailed guide about how to find an accommodation in Yerevan.
Scholarships
There are several scholarships available to participate in ASPIRANTUM's Classical Armenian language summer school. For details on scholarships, please check our "scholarships" section: https://aspirantum.com/scholarships
Each participant of the summer school may find other sources of financial aid from their own University/School/Community or other relevant foundations.
Letter of Invitation
ASPIRANTUM will provide applicants with an official letter of invitation to support scholarship and travel grant applications.
For questions and inquiries please contact [email protected] or whatsapp Dr. Khachik Gevorgyan +374-91-557978
To apply, please fill in the application form below.
"I knew barely no Armenian when I arrived, the alphabet, a vague inkling of the grammar, some words, and by the time I left I was able to understand the logic of most texts I came across, and to become independent in my studies."

Miguel Monteiro

MA student, University of Coimbra, Portugal

"The intensive winter course I participated in was a great experience not only of learning but also social and cultural. I highly recommend it. During the course we completed an entire overview of Armenian grammar in a very well structured and clear manner."

Yakir Paz

Post-Doc, Hebrew University of Jerusalem, Israel

"As a multi-language learner, the Armenian language classes were the best of the classes I have taken so far. In class we learned vocabulary and grammar, and practiced each of speaking, listening, writing and reading. The class consisted of both learner at intermediate level of Armenian and learner at elementary level, and everyone realized progress in their Armenian."

Chihiro Taguchi

Student, Department of Political Science, Keio University, Tokyo, Japan

"My experience on the Armenian Studies Summer School 2016 was absolutely unforgettable. With a flexible lesson structure, lecture series and timetable I was able to tailor the course around my needs and interests, and came away with a thorough knowledge of the Armenian language as well as a much deeper understanding of the region's ancient, medieval, and modern history and culture."

Nicholas Matheou

PhD Candidate, University of Oxford, UK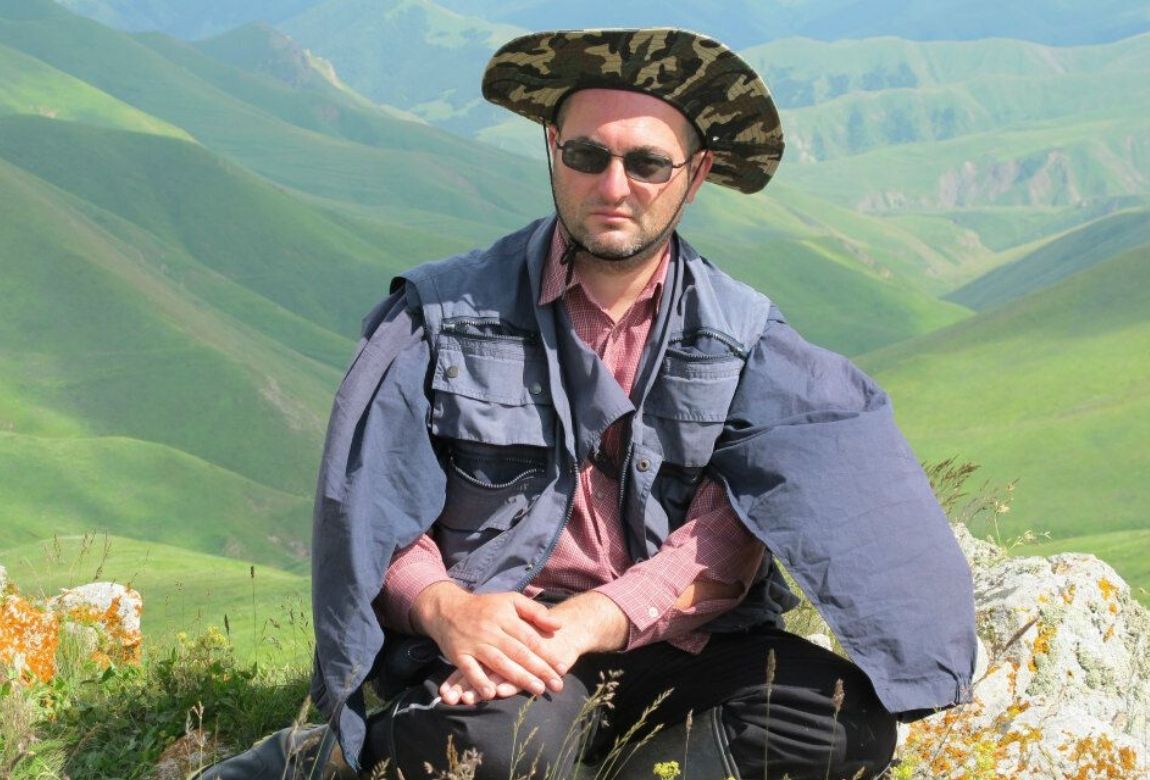 Aleksandr Kananyan prefers to teach Grabar (Classical Armenian) using only Grabar. If students request, Aleksandr will also use English, Latin, Syriac and Italian to make the teaching process more fascinating.