While being part of ASPIRANTUM school and visiting Armenia, you will have an awesome opportunity to travel to Georgia, a northern neighbor of Armenia. Whether by car, marshrutka (small bus), minivan, train or flying there are many different easy ways to get to Georgia's capital of Tbilisi. For anyone who is already traveling to Armenia, a quick trip to Georgia is a great and easy way to explore a new and vibrant culture and beautiful country. To help you plan your trip, we pointed out and described all the ways you can travel to Tbilisi from Yerevan.
Four different routes from Yerevan to Tbilisi
Drivers can take one of four different routes to get to Tbilisi, and there are three checkpoints on the border.
There are two routes that take you to the Bagratashen checkpoint, one goes through Dilijan and the other through Vanadzor.
| | |
| --- | --- |
| Yerevan - Tbilisi road through Dilijan | Yerevan - Tbilisi road through Vanadzor |
The roads are quite windy and take you through some mountainous landscapes. The route through Dilijan is the fastest so your driver will likely take this way –– plus you will stop in lake Sevan at a delicious food court where they make fresh Armenian pastries!
Your driver might also go via Stepanavan and stop at the Gogavan checkpoint, which takes about the same time as the route through Vanadzor.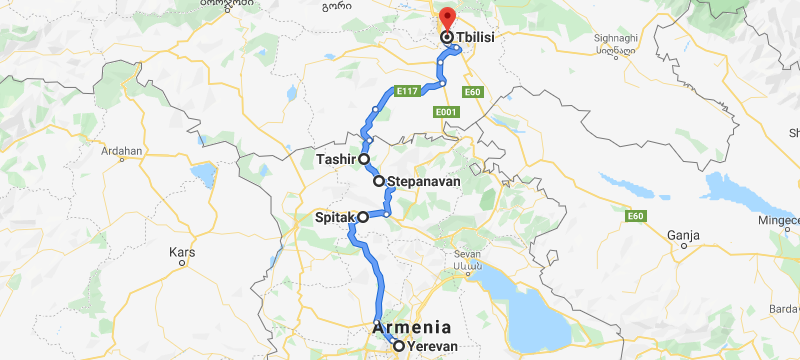 The longest route is through Gyumri and takes you to the Bavra checkpoint--this road to Georgia is more common for those going to Batumi on the Black Sea.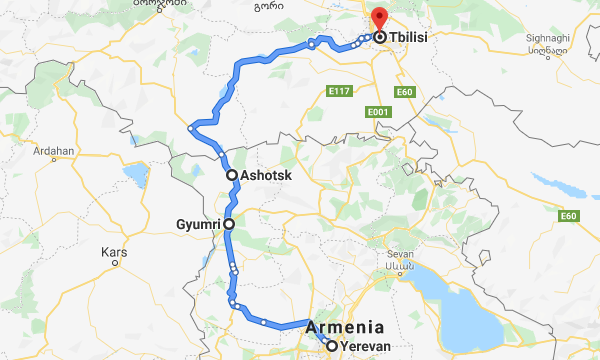 Whichever way your driver decides to get to Georgia, you will have some beautiful scenery out your window to keep you company during the long drive.
Traveling to Tbilisi by Marshrutka
Marshrutka is undoubtedly the most popular way to travel around the Caucasus. Unfortunately, sometimes the journey might be rough since the cars are not in the best condition.
The marshrutkas traveling to Tbilisi depart from Kilikia Bus Station right outside Yerevan's Kentron everyday at 8.00, 9.00, 10.00 and 11.00, the ticket costs 6500 AMD. Kilikia can be very hectic, so don't be afraid to practice your Russian or Armenian and ask for help if you have trouble finding the right marshrutka. In Tbilisi, marshrutkas stop at Ortachala Bus Station, which is a little bit out of the city center, so make sure you know how to get from there to the place you are staying at in Tbilisi!
We recommend getting your ticket ahead of time, because it is first-come-first-serve, and you cannot reserve seats. If there are not enough passengers, the driver waits until the bus is full and ready to go, so your departure time might not always be punctual.
Traveling to Tbilisi by Minivan
This way of traveling is much more comfortable than choosing marshrutka, because unlike marshutkas that may have up to 18 passengers, minivan only accommodate 7 passangers and costs only 500 AMD more! Minivans leave from Kilikia Bus Station at 8.30, 10.30, 13.00, 15.00, and 17.00.
If you decide to leave in a particular hour we recommend you to book a seat at least one day before, otherwise, the minivan might be full, and you will have to wait for the next one. On the other hand, just like in the case of marshrutka, the driver will not leave without having all seats occupied
The price is 7000 AMD. Minivans have WiFi connection on boards, and they stop at twice during the ride that takes in total 5-6 hours. The arrival station in Tbilisi is Avlabari metro station, which is located in the very city center.
Traveling to Tbilisi by Train
Yerevan and Tbilisi are connected by a rail! The train is quite slow and old, but it's a perfect option if you are looking for an adventure!. The ride takes twice as long as a car or bus, but when you travel with a group of friends it's a lot of fun to get a separate carriage!
The train has 3 classes: 1st class with 2 sleepers, 2nd class with 4 sleepers, and 3rd class that is an open plan sleeper.
Between September and June, the train leaves Yerevan at 21:30 every second day, arriving Tbilisi at 07:50 the next morning.
In summertime, starting from mid-June to late September, the train leaves daily from Yerevan at 15:30 and arrives in Tbilisi at 00:12 (just past midnight). The train continues to Batumi, where it arrives at 07:10 in the morning.
The ticket price increases depending on the class you choose. The price is 22.200 AMD for a 1st class sleeper, 18.480 AMD for a 2nd class sleeper, and 12,480 AMD for a 3rd class sleeper.
You can purchase the ticket in Yerevan Railway Station Sasuntsi David (Sevan Street), which is also where the trains leave from.
Traveling to Tbilisi by Taxi
Many travelers who appreciate a comfortable drive, decide to simply take a taxi or find a driver who can take them to Tbilisi. If you don't know any driver who does it, you can use the GG app and order your taxi a day before.
Renting a car costs around 25-30 thousand AMD (around 50-60 USD).
Blablacar
BlaBlaCar.com is a worldwide known service to share a ride. A driver submits the date and the price of his travel, and people who are willing to go to the same place, can book a seat and join the driver.
Passengers share the costs of the journey with the driver, and that is all you will have to pay--there is no real ticket. On the platform, you can find many drivers who go to Tbilisi every day.
The huge advantage of this option is time flexibility. Marshrutkas and minivans depart quite early, and the train takes a lot of time, so when you can't afford a taxi, you can simply use BlaBlaCar! The fee is 4000-5000 AMD.
Wrap Up
Once you arrive in Georgia, Yandex Taxi app works just like in Armenia, the metro is very simple and efficient, and there are tourist visitor centers all around the city.